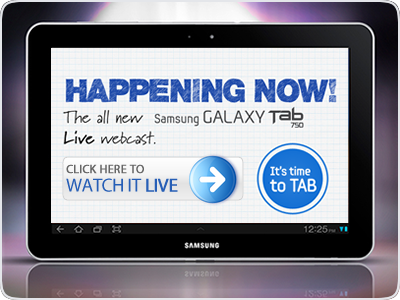 Hey!! I'm promoting the
Samsung Galaxy Tab 750
Launch on my blog...also the live event Webcast on the 12th of August ( Friday- 12:00 to 2:00 pm). Why?? Well... Tabs are simply in! And I'm in love with the technology!
I'm in all minds to switch my laptop with the
Samsung Galaxy Tab 750
. Read the latest ebooks on the way back home, tweet about whatz happening in my life (right here, right now), FaceBook all the pics from my weekend parties-live! What more, I will be tickling my logical mind with the brain numbing games, download the coolest Apps to go with my (n' all my friends) requirements, find my way to the new farmhouse on the GPRS etc. etc. I'm also dying to listen to my favorite numbers, watch all those movies, take down notes whenever I feel like & even pen down,....err tab down my poetry whenever it occurs to me!! And to say, these features are just the tip of the ice berg!
U game for the tab too? If yes, there is tons more to know. Just check out this live webcast. If this doesn't change your life, nothing else will!!
Accept my FaceBook Invite...
WATCH THE LIVE WEBCAST HERE ON FRIDAY, 12th AUGUST FROM 12:00-2:00 pm
.